Straight lines and angles
Using straight lines and angles helps the artist to create a strong, energetic framework for any work of art (drawing or painting) whether its a simple still life or something as complex as the human figure.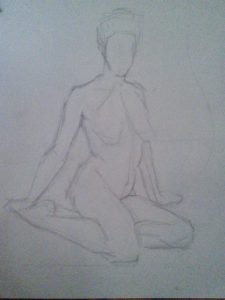 Drawing is something we all probably have done – especially as little kids. In this post, I am going to share some fabulous drawing tips for anyone, young or old, who is interested in improving drawing skills.
When I first arrived at Art School, two years ago, I thought I understood the main principals of drawing. Holy smokes – was I ever wrong! For one thing, I did not know about  the importance and value of drawing with straight lines and angles. I now know a little (teeny weeny) bit more about the craft of drawing.
Before I share the nitty gritty with you, here are a few points of clarification. Most of the focus on drawing in this post will be from the experience I have had at an atelier called Studio Incamminati. I am two years in to a 4-year professional drawing and painting program. At Studio Incamminati the focus has been to train us to see and draw objects from life (in other words real people, real still life objects) and, ultimately, paint realistically. Note: as with most things in life, this is not the only way to draw.  Also, plenty of people draw and paint from photographs but this is not a part of the learning or practice at Studio Incamminati. So, we are lucky enough to work from life, every single day!
Drawing tips
Here are the essential tips to drawing effectively. First, start with 3 marks: the top of the figure, the bottom of the figure and one single line to represent the action or movement of the pose. In art school speak, you are seeking the essence of the gesture of the model. From here, you are working from big shapes to smaller shapes. This my dear readers is the absolute, most important part of drawing at my school. I have heard teachers say that if you capture the essence of the gesture, the rest of the drawing practically draws itself.
After a few short moments into the drawing, it's important to engage a more analytical part of the brain to evaluate proportion, shape and values. As you evaluate the drawing, continue using straight lines and angles. You want to make sure that each mark, every line enhances the gesture you created; a fine line (pun intended) to follow.
As fabulous artist and instructor, Dan Thompson says, "The finer the relationships between the lines we are drawing, the finer the art."
Overwhelmed?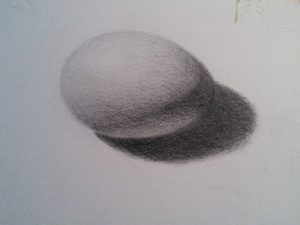 If you feel overwhelmed with applying these principals, I understand because I certainly did. Here is a suggestion. Consider drawing an egg under a single light source. (NOTE: the single light source is very important here. You want to have a very clear shadow on the egg form and a very clear cast shadow, too). Take 45 minutes each day for 5 days. Apply all the steps I have described above, keep in mind that the egg shape is merely a variation on a rectangle. This exercise was a suggestion by mighty artist and instructor, Darren Kingsley. I learned so much about how light falls on the form by drawing this egg. I hope you do, too.
The simple but challenging idea of drawing with straight lines and angles is a wonderful way to create vital drawings and paintings packed with strength, character and feeling. Give it a try the next time you draw or paint. Or, when you visit a gallery or museum, see if you can you tell if the artist used straight lines and angles. Do you think this approach might actually strengthen your work? I would love to hear your point of view!