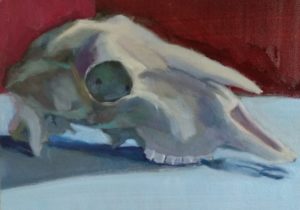 Welcome to the world of painting from live objects and models. The phrase "break's over" has several meanings in this context. First, the traditional spring break for Studio Incamminati has just ended. So you could say, "Break's over."
If you were taking a class here saying "Break's over" has another meaning. What other meaning? When painting a living, breathing human being, we (students) and the model, take breaks every twenty minutes. Why? Have you tried standing or sitting in the same position, without moving,  for 20 minutes? It's a super challenging task and every model needs a break, typically for 5-7 minutes every 20 to 30 minute pose.
Who is in charge of saying "Break's over?" At this school, the class monitor (one of the students who volunteers to monitor each semester) is responsible for timing the poses and the breaks and insuring the model is comfortable and assuming the correct pose.
Now that I have been attending school for nearly three years, I see the value of timing myself even when I am not working from a live model. So, for instance, this past week, I was back home in Raleigh, NC (woohoo!). During this week long break, I knew I wanted to do several charcoal drawings and still life paintings. So, I set the timer for a bit longer, usually 45 minutes. And, used that amount of time to thoughtfully gauge my progress or lack thereof.
I am the lucky recipient of a goat head. So one of the paintings that I completed (after multiple 45 minute sessions over 2-days) is of that object. The result is the featured image of this blog post.
Lessons learned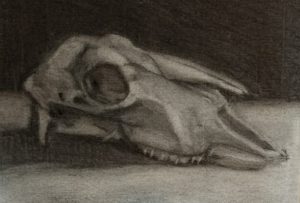 I worked on this drawing in charcoal first. This drawing helped me to see the subtle range of values on the side of the skull. I tend to keep my values in a relatively close range which is not ideal. I am pleased with this drawing but want to expand the range of values even further on future charcoal drawings.
This painting is one of only a few paintings I have completed in natural light and on masonite board. I painted in my dining room which has a tiny bit of north and northeast light. I noticed that the longer I painted this painting, the more amazing colors I saw in the shadows. So I would like to train myself to see these beautiful, subtle color variations more quickly. What does this mean? This is definitely not the only goat skull I'll be painting in natural light.
But first I need to be much more mindful of the amount of paint I apply on the board. It is such a different experience from painting on linen or cotton canvas. One way to address this issue is to use softer brushes on the board (than I would use on canvas). But there's also a kind of 'touch' that I want to refine with all the different media with which I work including charcoal, graphite and oil paint. My sense is the more I draw and paint, the more confidence I will infuse into the practice of painting and drawing. Being aware of my desire to address this issue, for me, is significant and exciting to study and consider.
If you use breaks in your creative process, I would love to hear how you do so.  Or even share thoughts on what you've tried that hasn't worked, too.