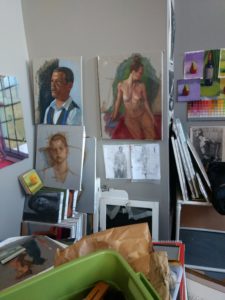 Artists of any medium who develop a critical eye are sure to refine and improve their work. The ability to objectively look at what you are creating and assess it is 1) not for the faint of heart and 2) an essential skill to acquire.
Here are a few things I am doing to help develop my own critical eye. After all, I have less than a year before I will be working on my own (woohooo).
Oh and by the way, this critical eye is essential for art collectors, too. So consider these ideas even if you are not an artist but, rather, are considering buying some art.
Take a photo of the work
As you can see, I have posted a whole bunch of my paintings on the wall of my studio. But, before I even do that, I take a photograph of my work. Then a few hours later, I take a look at the drawing or painting on my camera. You would be amazed at how the errors literally jump out at you when you look at them on your camera. In a sense, the camera becomes your 'objective eye' to help you see.
If you are an art collector, you may find that taking a photograph will help you with your decision making, too. Even if you take the picture, step away from the gallery and rush back inside to buy the painting because you love it so much, the photograph can help you literally 'see' the painting from another perspective.
Display the artwork on a wall
In the photo I share at the beginning of this post, I have put up a bunch of my paintings on the wall of my studio. Some of the images are drawings to help me to remember fundamental principles I am learning here at school. But the paintings are up there on the wall so I can see them both up close and from far away and decide what is and is not working. For instance, in the portrait sketch of the woman in the left hand corner, I needed to add lighter values on this lovely portrait. She was bathed in beautiful natural light. Fortunately, I am beginning to show more light on the nude painting in the middle of the photo.
If you are an art collector, many galleries will offer to have you 'reserve' a painting and even bring it home (for a deposit, of course)!
Know when to fold 'em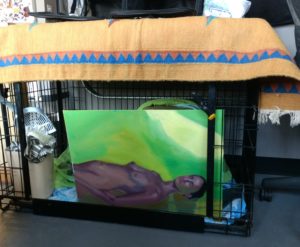 Sometimes you look at a painting and just know it's best use is to describe it as a 'learning experience.' Or, better yet, you could find a functional use for that painting that has nothing to do with displaying except, perhaps, as a shield in front of the kitty litter box – ha! (See photo in this paragraph). The good news is this painting is from last year. Shortly after I finish a not so great painting, I assess what went well and what didn't go so well. Then, I move on to the next painting!
What advice or ideas do you have to objectively assess your work? Are you a part of a group that meets periodically to critique your work? If so, what works and what doesn't work with that arrangement? I certainly will be interested to see if that is something that will help me grow when I return to Raleigh, NC next year.