Whether you are in the midst of a move (like we are) or in the adventure and commitment of raising children or any other life adventure such as caring for an aging parent or being focussed in a challenging non-art day job, there is always something that can get in the way of building an art practice. Forgive me if you don't consider raising children, caring for aging parent distractions, I don't either. But for the purpose of this post, I am thinking of anything that can pull me/us away (however, lovingly) from our work as artists.
Following the end of this school year, I had started a wonderful practice of getting up at 5:30 a.m. and drawing for 45 minutes before taking care of other essentials such as yoga, meditation, breakfast and doggie walks. This week, that practice has been completely let go as we pack boxes and gear up for a move that is only 2 blocks from our current location.
Part of my early morning practice included working on this self-portrait. Our current apartment is west facing and the light moves pretty quickly so I needed to work in the mornings. I only spent ~4 hours on this drawing so it truly is a work in progress but I do feel as if I have caught a bit of the light and the sense of my sleepy-headed self.
Every single morning this week, I have seriously (seriously?) thought I would be able to take time to draw after packing a few boxes. This has only happened once so far and it was Tuesday (I think). Ack!!! I have decided it is important to recognize that I / we need to pack up to move. Why? We have three guys from school showing up on Friday morning and – shazam – we better be boxed up and ready to load up the truck David has rented for us.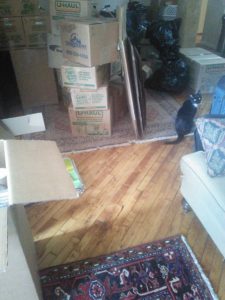 So here we are at box central (kitty #1 supervising) with about 90% of the place packed and ready to go. Our new apartment has an entire wall of North light windows which is a painter's dream world. But this means I'll need to let the current work in progress go and start on a new self-portrait in the new setting. And, before that happens, we will need time to move in, unpack, settle and see what this new place has to offer. I would love to hear how you, as an artist or writer, let yourself happily focus on the distractions you have. I am also curious how you let go when you are in the middle of a big transition or obligation and then how you get back on track again. Any advice or ideas you provide in the comments below would be just fabulous. Thank you!