Tell me and I forget. Teach me and I remember. Involve me and I learn.

Benjamin Franklin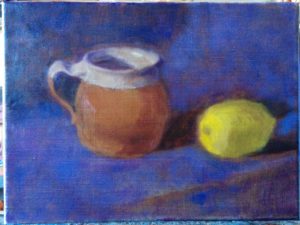 Studio Incamminati has fabulous teachers! Why do I say that the teachers at my school are fabulous? Well let me count the ways. First of all, this school is clearly designed to help any willing person learn how to paint realistically. This is a rigorous four year program with each course and year designed to help the student draw and paint what we see (not what we know or think we see).
The second reason this school is fabulous is because the approach that nearly every teacher takes with the individual student at the easel. Without exception, the teachers approach the student and offer feedback about what is working well in the drawing or painting. Then the teacher gives specific, constructive feedback about areas that need improvement. Lastly the teacher reminds the student what is working and asks the student if there are any more questions.
The third year of the program (in which I am enrolled) includes a mentorship day. What does this mean? One day a week, I get to paint in the studio along side a teaching fellow at school. Shira Friedman is my first mentor this fall and I am thrilled. Why? First of all, I love her paintings. They are delicious, simple and evocative. Secondly, I love her work ethic and approach to painting. And, she has a firm but supportive approach and she exudes a sense of confidence in my capabilities that, I confess, I quite haven't seen yet.
The painting in this post is my start. I decided to paint one of the mugs that I made in my 'previous life' when I was a potter. I spent the first day setting up the still life in natural light. Then I painted a color study and a separate black and white value study. The morning of the second day I worked a bit longer on the color study and, frankly, flopped. Why? I didn't give myself time to look and establish color relationships and ended up with a bit of a muddy mess. Fortunately, it was just  study!
Shira told me to expect to spend a good part of the second day painting my actual painting in grisaille. I was excited to paint on linen canvas for the first time. Woot! Since I am painting on linen in grisaille, I needed to make sure I had a thin application of the grisaille over the entire canvas by the end of the day. The good news is that I did accomplish this goal. The bad news is I didn't take a photograph at that stage. Oh well.
Last week was the third week of my 7-week mentorship and, again, I had specific goals for the day: continue to work on the drawing, put in dark values first, then lights and paint thinly. I also needed to cover the entire canvas with a thin amount of paint. So, the photo you see above is my still life at the end of the third day.
Overall the goal of this year and this mentorship is to learn how to 'turn form' or show the three dimensional shapes of the forms in a still life set up (in this case) and ultimately in the figure. I am excited about this still life start but have lots more work to do so stay tuned!