When I started oil studies two years ago, I used the most inexpensive canvas paper I could find. Fast forward to today and teachers are telling us to try the finest, most magnificent canvasses and paint. What does this mean? Instead of Titanium white oil paint, use lead white paint. Instead of cotton duck canvas, try linen.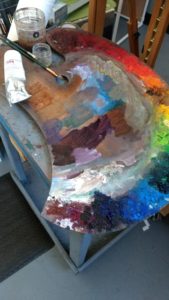 So, in this photograph, you can see the wooden palette I use everyday. You can also see the beautiful colors in a very particular order. Plus there's a big silver tube of lead white paint on my palette. Lots of people suggest that using lead white paint is dangerous because it's a toxic substance. While it's true that lead is toxic, I can assure, I am not eating this paint. I am using it and it's delightful, gentle tinting warm properties to adjust the value and chroma of a particular color on my palette.
Lead white paint has an incredible silkiness to it that is such a joy to use. While I still keep Titanium white and its super charged tinting power on my palette, I prefer the warm and gentle nature of lead white paint.
To take this whole materials adventure to a new level, teachers are suggesting oil-primed linen. Last year, I bought rolls of canvas made of cotton and half way through the year, I got a roll of acrylic primed linen. And, even though I am typically not very handy, I became OK-ish at stretching my own canvasses.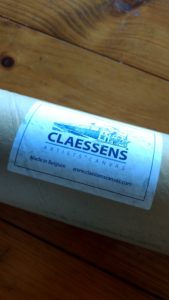 I really thought I had found the ultimate painting surface when I stretched and toned the acrylic-primed linen. But no! There is a more precious and delightful surface that I needed to try. So – gulp! – I just ordered and received my first roll of oil-primed linen from Belgium. It arrived this week.
Does this mean I can cut a chunk of this linen, stretch it on the stretcher bars and start painting? Oh no – not a chance. I have to tone this linen canvas with a neutral grey tone. And because the linen canvas has an oil based ground, I have to use an oil based tone. My school's founder, Nelson Shanks, would tone his linen canvas and wait weeks even months before painting on it.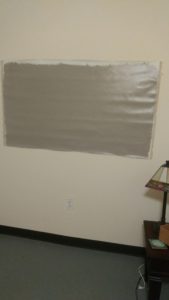 The actual recipe of ingredients to create this neutral grey tone is kind of like that brownie recipe your grandmother used to make and subject to interpretation. So, yesterday, I mixed up the oil paint tone for a pretty large sample of this linen canvas. As of this evening, the grey tone on this linen (see photo) is still tacky and even wet feeling to the touch. Good thing I wrote down the recipe I used (Galkyd white, ultramarine blue, burnt sienna plus a cocktail of medium (50% stand oil + 50% OMS) 1 part to 8 parts OMS mixed in with the paint mixture).
So it looks as if it will be days perhaps even weeks before I get to try this new magnificent material. I can't wait to share the experience with you later this year.
What are your favorite materials to use in your creative process?