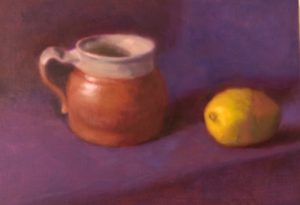 There is a lot of excitement  in the air here at Studio Incamminati. Why? My classmates and I finished our mentorship paintings and a 2-day portrait painting, too. Here's a brief description of each.
Mentorship
I described the start of the mentorship in an earlier post here. But here's a quick summary of this experience: Studio Incamminati's mentorship for Level 3 students is an opportunity to work in a teacher's studio for 7-weeks. I feel so lucky to have had the chance to mentor with Shira Friedman. I love her still life paintings and her approach to the practice of oil painting. She is patient, methodical, good-hearted, firm but kind.
I think it might be best to sum up this experience with a few quick thoughts. First, I learned that painting takes patience. What does that mean? It means using a clear head and mind each time I start the painting. It also means having specific goals for each painting session. Once I established the goal for the painting, I mapped out the approach. Shira was working away on her own beautiful paintings while I was in her studio. So, I got to see the suggestions she offered to me unfold on my canvas while she painted, too.
I am thrilled with the mentorship painting I completed and shown above in the first paragraph and  entitled, "Invitation." The subject of this painting includes a salt-fired mug that I made when I was a potter.
The impact of the technical aspects of paint handling and patience that I learned during my time with Shira is significant. I am much more thoughtful and deliberate in the amount of paint I use. I also think differently about how I apply the paint and this depends upon the type of area the paint is covering. For instance, in the painting above, I deliberately applied tiny, vertical strokes to the rim and handle of the mug. Why? It creates a much more confident and lush looking object.
Two Day Portrait
I used these same newly developed skills in the 2-day portrait painting of "Jo" that I completed this week. He had a significant amount of light on his forehead and nose. I used small, horizontal strokes on his nose to 'chisel' out the shape I was seeing. I applied the paint very thinly in grisaille (the first stage). Then I used a middle value for his skin tone. The angle of the pose was pretty challenging because I could see just a small amount of the far side of his face.
Both teachers in Monday's portrait class, Kerry Dunn and Natalie Italiano, offered specific tactics to keep the structure and proportions of the model's face on track. I am starting to see the incredible range of colors in the light and shadows in these paintings. For instance, this model was posing under a warm light and had a warm skin tone, too. The cast shadow of his chin had a wonderful green-ish, purple-ish, redd-ish tone to it that was fun to see and paint.
There is still so much more to learn in creating a solid portrait or figure painting. The time I spent in mentorship with Shira is one sure sign that I am on the best possible path in joyful pursuit of this practice.