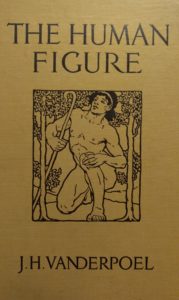 Days before a road trip to Chicago, I learned about the Vanderpoel museum. Who the heck is Vanderpoel? John H. Vanderpoel's book entitled, "The Human Figure," is the mainstay for most ateliers and art schools in the world today. His book, originally written over 100 years ago, offers text, simplified descriptions of drawing and conveying the planes and features of the human figure. The book also includes lovely sketches by Vanderpoel of facial features, hands, arms, the torso, the head and more.
Tips and Treats
Whether you purchase the book or not, a visit to this museum will surprise and delight you. TIP: If you decide to buy the book, please be sure to buy a hardcover version of the book and as early an edition as you can find and afford. Why? The original reproduction of Vanderpoel's sketches are better in the earlier edition than in the less expensive paperback version.
If you visit the museum at Ridge Park Fieldhouse, 9625 S. Longwood Drive, Chicago, IL 60643, don't be surprised. Why? First, you will arrive at a building that has no significant signs or indications that there is a museum inside. Second, the museum is located in the equivalent of a community center or YMCA.
Here's another tip before you visit: call ahead and schedule an appointment with the wonderful volunteer staff. See the hours and phone number for the museum here. Ask to see the absolute gems of this museum: the original Vanderpoel sketches. These amazing and beautiful sketches are not on display on the walls or in frames in a secret room. They are stored in a box and may not be available if you do not call ahead and request to see them.
If you do request an appointment and a chance to see the sketches, you will experience the treat of holding them in your own (museum supplied white gloved) hands. There is something indescribable about holding a graphite sketch of a master in your own hands. There are also delightful notes and comments in the margins of many of these original sketches.
I hope you make the trek to this gem of a museum. Do you have any suggestions, tips or treats of 'hidden gem' museums which I should add to my wish list? If you do, please let me know in the comments here, too! Thank you.