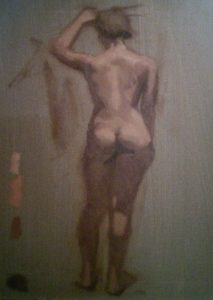 Four days out of five, we Studio Incamminati students hear, "Model's posing!" This is a call to action for me and my classmates to be ready to paint from life. In other words, we are painting a nude, living breathing human being, all day every day.
Why? Because, throughout history, painting a nude model from life is one of the most challenging subjects. It is a wonderful way address the problem of showing how light falls on a 3-dimensional object (the figure) on a 2-dimensional canvas.
Even though we human beings all have skeletons, muscles, skin, etc, the range of shapes and sizes is vast. To help us learn to paint the figure, we study anatomy, we practice short gestures and we read a range of books and listen to lectures.
We are using a process called 'duo-tone' to study both the figure and portraits. I outlined the steps for this process in an earlier post here. Some other art schools follow a similar approach and may call this a process using a limited palette. Teachers here at Studio Incamminati claim that what makes this school's approach unique is the requirement that we use the neutral grey tone of the canvas as a value when appropriate. How does this work? After I have painted the gesture, blocked in shadow shapes, considered the mid-value of the model, indicated the lightest light and darkest dark, I analyze whether or not the neutral grey canvas is an appropriate value for dark light. You know what makes this interesting? I did not use neutral grey tone in the painting above. But I have used it in others (see below).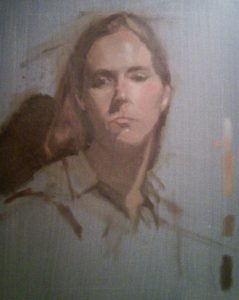 In this portrait painting, I used the grey tone of the canvas to show the brow ridge and the glabella (the downward plane above the nose). I also used it to show the transition from the cheek to the shadow by this model's hair. I share this information with you so that you can see that there is a specific and objective process we are following to accomplish the goal of painting the portrait and figure realistically.
If you wonder why I am sharing this process with you, I offer two reasons. First, I want to keep a running, online document of my progress in this amazing art school program. I also hope to share a glimpse of the rigor, analysis, and sheer brain power involved in the goal of capturing the amazing spirit and physical presence of the models who pose for us each day! Thank you for reading this!