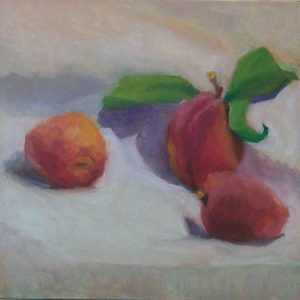 As a realist artist whose goal is to create realistic, beautiful paintings, "What is your Strategy" is a vital and relevant question. I was surprised when one of my teachers first asked me this question.
Why? Er because I tend to not be strategic and typically pick up my brush and just start painting. This means I can actually waste time and materials noodling around. Having a clear idea of what I want to accomplish with a painting and having a strategy to execute it, can end up with an outcome where the painting practically paints itself.
Really?
Really!
Here are some goals and an example of how a strategy has helped me reach that goal. At the end of my second year at Studio Incamminati, I realized that I still struggle communicating a sense of volume and three dimensionality in the still life and figure studies I have done. So, BOOM!, one of my goals for painting and taking workshops this summer is to draw and paint with that in mind.
Ideally I'd like to have the opportunity to draw and paint from life. So I was lucky enough to stumble upon a tree in our neighborhood that was literally overflowing with peaches. The owner had a sign hanging on the tree that read: "Please take as many as you'd like." So I did. Peaches, fruits and vegetables are round, organic shapes and a perfect subject to use to execute my strategy.
The first thing I did was try several different set-ups with the peaches. They were such a rich and delicious color that I decided to choose a simple, white dish towel for a background.
Then I did a quick color study to evaluate the color relationships and the composition I had chosen. Then, its onward to the 6 inch by 6 inch panel for the actual painting. As I was painting I was thinking of the light source and how it was falling on top of the peaches. In fact, I imagined the light was falling 'like snow' from the upper right corner. This helped me to envision the planes of each of the peaches and to think about how color can communicate falling away from the light. If you struggle with this in your paintings, consider holding your non-paintbrush holding hand in the direction of the light falling on the form to further clarify what and how you need to show what the light is doing to the form.
The end result is the little painting at the beginning of this post. I am quite pleased with the outcome. What about you? Do you have a strategy for tackling your creative problems? If so, please do share in the comments and thank you!